January 3, 2022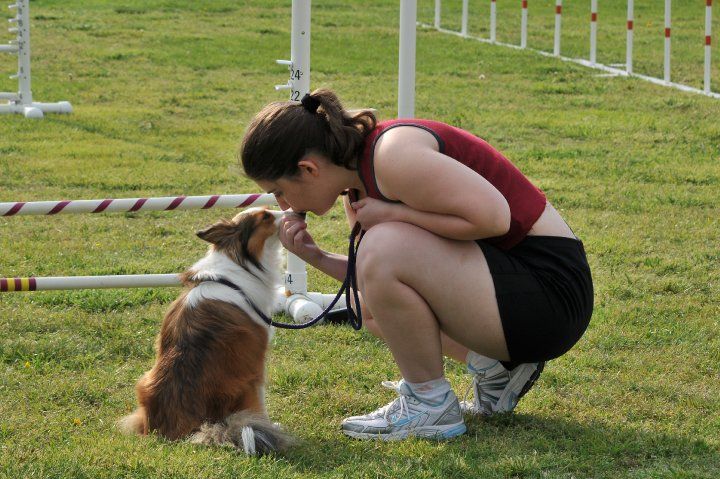 Meet Family Dog Club instructor Brandy Bishop
Brandy Bishop wasn't born at Family Dog Club but it's no stretch to say she grew up there. She was just 13 when she started training her first agility dog under Family Dog Club owner Rita Phoenix. From there, Brandy graduated to a Shetland Sheepdog named Whisper followed by a rescue named Angel, an initially anxious dog who eventually achieved a NATCH (NADAC Agility Trial Champion).
These days, Brandy doesn't just train her dog, Nox, there, she teaches Tuesday night's Intermediate 1.5 class that is ideal for handlers who are comfortable with basic handling, want to improve on execution and timing and learn more advanced skills. Dogs in Intermediate 1.5 should be comfortable on all equipment. If you take her class, you'll realize she has eyes everywhere, so don't be surprised if she asks you questions after your run. She sees everything!
Brandy shared some thoughts on all things agility, dogs and more!
Her first dog memory ….
"I grew up living with dogs, so it's hard to say what my first memory of them would be. They've just always been a part of my life.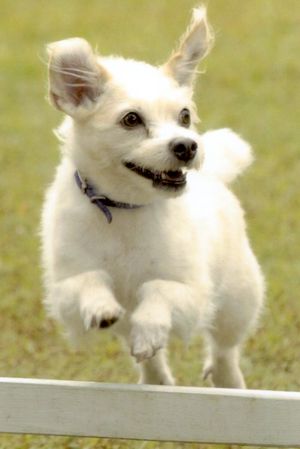 The first memories that really stuck with me, though, are from the first dog I ever trained. He was a little Westie-Poodle mix (back before designer breeds were even a thing) named Roy Boy (pictured right). Someone bought him from a pet store at a mall for $50 and later decided they didn't want him anymore. We took him home, and I read all kinds of books about teaching dogs tricks. I taught him all sorts of fun things." 
The agility achievement she's most proud of:
"I took a chance on a little rescue sheltie named Angel back in 2008, and she turned out to have a lot of issues, one of which was a lack of socialization, making her terrified of everything. I didn't quite know what I was getting myself into, and after a couple years of working with her, I realized she was not going to be the agility partner I had hoped for. Instead, she turned out to be partner I needed. I learned so much from her, and she turned out to be a really fun dog. We eventually got a NATCH (NADAC Agility Trial Champion) title just after she turned 12."
 Best agility advice:
"Always be kind to your dog. Always reward your dog, especially when you make a mistake."
Aside from her time in the ring …
"I like to play Dungeons and Dragons, and I like to build Lego sets. I love Harry Potter and Lord of the Rings. Basically, I like nerdy things."
Her favorite book (Brandy teaches English at Great Bridge Middle School):
"The Harry Potter series. (The Lord of the Rings movies are tied with the Harry Potter movies, but the books are rough to read!)"
 If she wasn't an English teacher, she'd be …..
"A full-time agility instructor."
How it all started for Brandy at Family Dog Club:
"Back in the late '90s, I saw agility on TV on Animal Planet, and I told my mom that I wanted to do that with my dog Roy Boy. She told me not to get my hopes up and that I probably wouldn't find a place around here to do it. This was before the internet was easily accessible and before most businesses had websites, so I didn't know where to even look.
"A little while after that, we were driving down Kempsville Road, and I yelled to my mom that I saw agility equipment and that we had to turn around and check it out. We drove down the driveway and saw a sign on the gate that said, "Family Dog Club" with a phone number. I couldn't wait to get home to make that phone call (cell phones weren't in everyone's pockets yet). I was worried the trainer didn't let kids in the classes (I was 13 at the time) and that it would be too expensive, but I was wrong on both accounts. Rita told me about an open house coming up in a couple of weeks and invited me out to play. I called her at least two more times before open house to ask what kind of leash I should bring and if I needed to bring treats. She should have known at that point that she wasn't getting rid of me! I started my first agility class in March 2000 with Roy Boy and started trialing in UKC shortly after. After a couple of years, I started helping Rita teach Basic and Intermediate classes."
Best advice Rita ever gave her:
"The most important thing I've learned from Rita is not about agility or dogs, and it's not just one thing she's said to me. Rather, it's about being a good person and helping others. I met Rita when I was 13, and since then, I have seen her do so many things to help people, dogs, cats and even sheep. She has been rescuing dogs long before Beagles to the Rescue was created; she has mentored countless kids; she has organized fundraisers for people in need; she volunteered her time for a 4-H club; she sponsors a local elementary school classroom. This is a very short list of a much longer one. Her kindness and compassion towards others are the most valuable things I have learned from her."
If she could own a breed she never had before it would be ...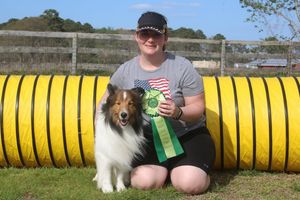 "I love Shelties, but I might venture out into a Border Collie or a sport mix at some point." 
Brandy's agility goal:
"I want to compete at the national level."
 The great thing about Nox (pictured below) is ….
"She's always so happy! She is always up for an adventure."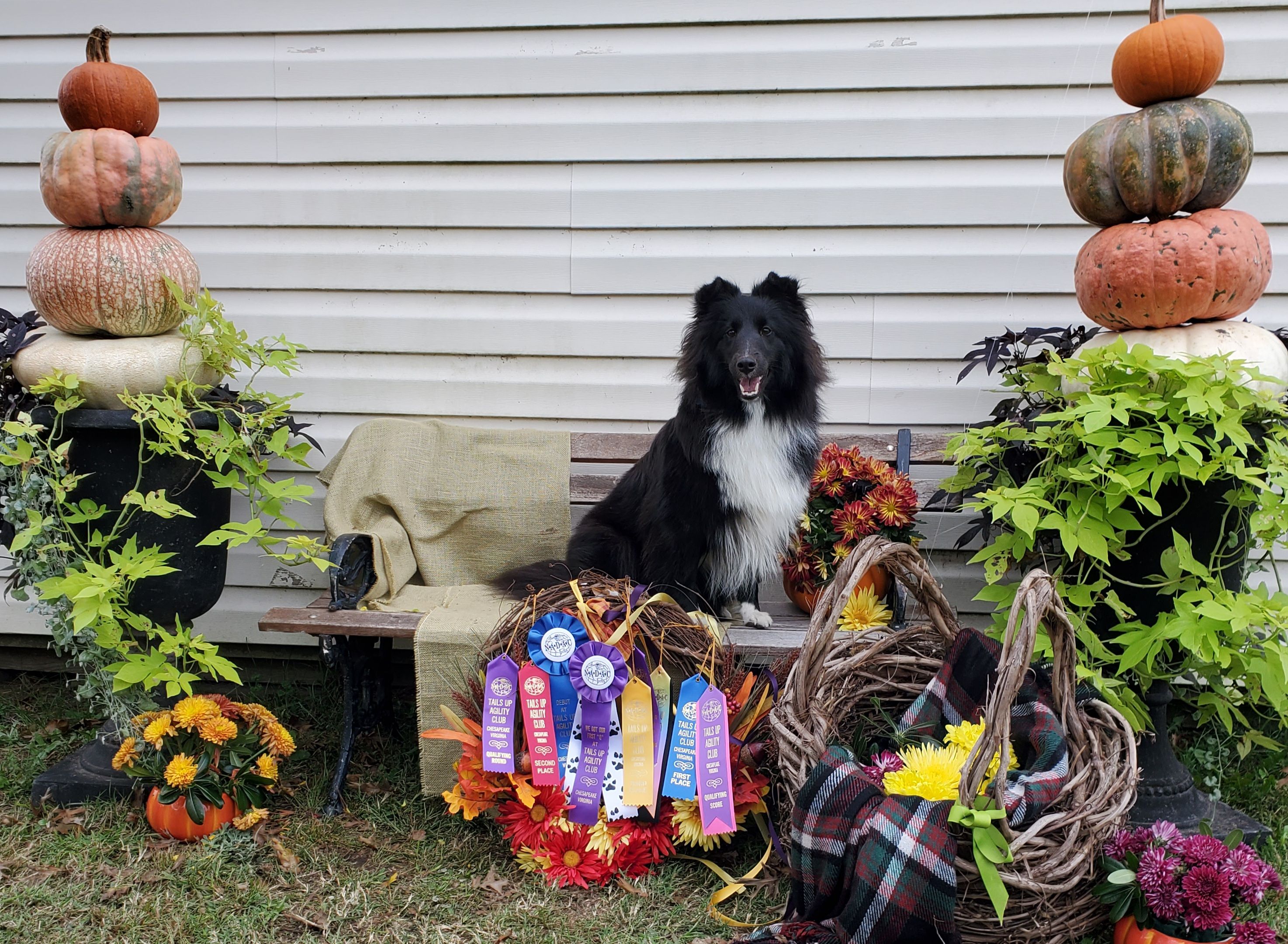 It's time to enroll in agility classes that begin Jan. 10, 11 and 12, 2022. Brandy's Intermediate 1.5 class meets on Tuesday nights at 7:30 p.m. Sign up for Basic, Intermediate and Advanced classes by emailing Rita at familydogclub@hotmail.com. Include your name, your dog's name and breed and the class you are interested in. Browse all class listings here.
---
Oct. 7, 2021
From Family Dog Club to Westminster and Beyond
Meet Virginia Beach's Nicole Davilli and the team she calls #BostonStrong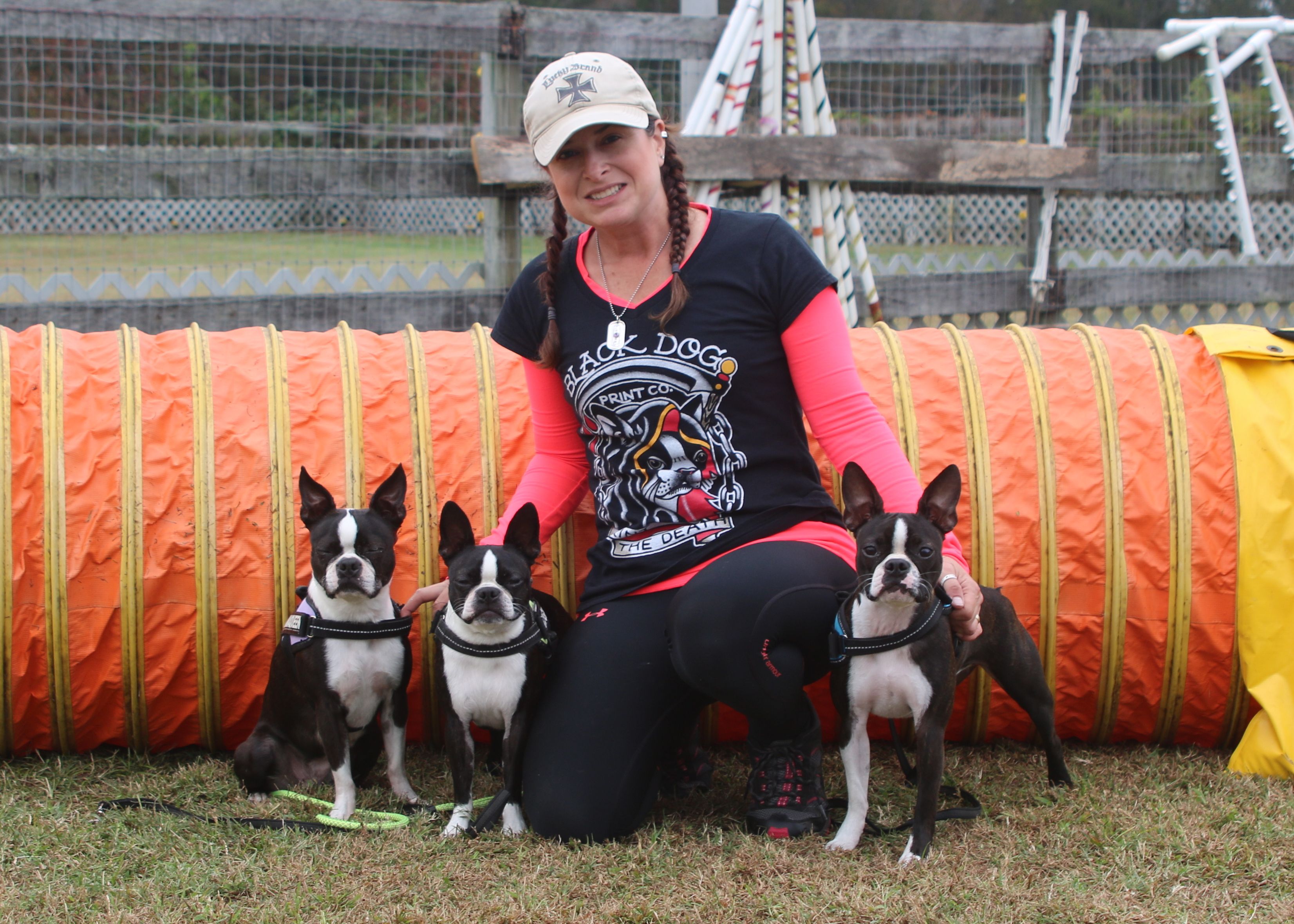 Agility rock star Nicole Davilli got her start at Family Dog Club.
What began 12 years ago with a Basic class for her Boston Terrier Abbey morphed into what she calls #BostonStrong today, a pack of Boston Terriers that excels at the highest level with speed and precision. Nicole has competed at The Masters Agility Championship At Westminster three times and is qualified for the AKC National Agility Championship this spring. #BostonStrong will try out for the USA Agility Team in December to attempt to earn a spot in one of the most elite agility competitions in the world.
Nicole is mom to the top Boston Terrier in the nation, a superstar named Darby, along with another champion Casey, and the grand dame among them, Abbey, now 14 years old. #BostonStrong racks up points, titles and championships faster than a puppy can scarf down a bowl of chicken.
"The adrenalin level for me is just huge in agility," says Nicole, who grew up around large sled dogs in southwestern Massachusetts but calls Virginia Beach home today. "The harder and more technical, the faster the course —  if I have a really good run on a course like that — I can feel my legs shake."
Her first Boston, a rescue named Bailey introduced her to the breed with the tuxedo coat and rhythmic movement. When she thought Bailey needed a buddy, she found Abbey, almost on a whim.
"We had just moved into our house and it was a Friday and the Red Sox were playing in the Series Sunday night," she remembers. "The breeder had one female left, so we dropped everything and drove to North Carolina to get her."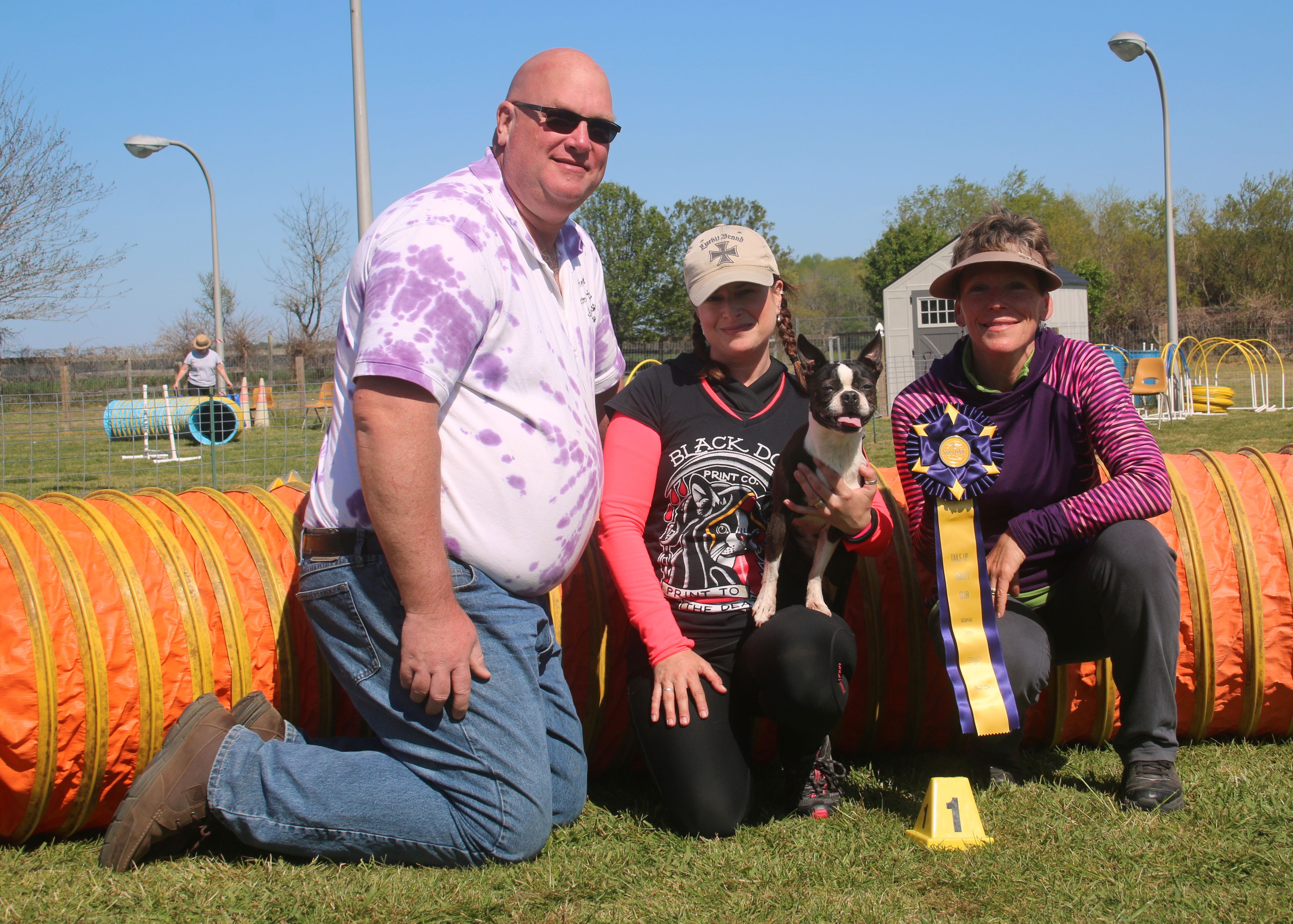 Two years later, Nicole saw agility on TV and thought it would be fun for the dogs. A Google search led her to Family Dog Club, and she signed up for a Basic class with owner Rita Phoenix. Abbey took to it immediately and Nicole progressed steadily,  all the way up to the Advanced Class, where the courses can include as many as 30 obstacles.
"I learned a lot from Rita," Nicole says. "What was most valuable for me was that she pushed me. Her Advanced classes were challenging. They were long. They were way longer than any course you'd see in competition. Rita would always tell us if you could do that course in class, competition would be easier."
Nicole Q'd on Abbey's first trial run. It wasn't long before Nicole and Abbey started trialing more weekends than not, traveling to New Jersey, Maryland and North Carolina with a group of agility buddies from Family Dog Club.
When the puppy bug hit again, she struggled to find a breeder who thought agility was a good fit for a Boston. They wanted their litters to be pure pets or conformation dogs.
"None of them thought a Boston belonged in agility," Nicole says.
Finally, a local contact put her in touch with a breeder with a 6-month-old female.
"This little girl would have done anything in the world for a ball," Nicole says. "That was it. I picked her up and took her home."
She named her Casey.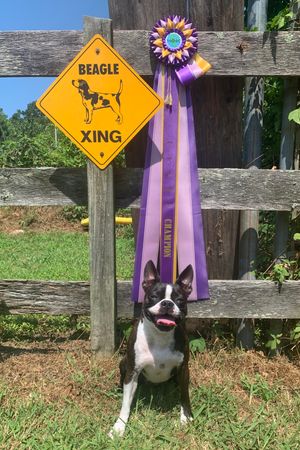 Another star was born.
Casey, who Nicole dubs "the mouse," dock dives, does lure coursing and rally, and she's earned two PACHs or AKC Preferred Agility Championships.  Last year she won her Division at the North American Dock Diving Regional Championship and was invited to attend the National Showcase in 2021.
"There's really not that much Bostons can't do; they're very bright and they're very athletic," Nicole says. "They're not a Border Collie or a Sheltie. They're not a born working dog. But they're great working dogs.
Nicole wasn't looking for yet another addition when she learned Casey's brother was going to sire a litter, something she couldn't pass up.  Nicole only wanted another girl. The ultrasound photo showed five puppies, one female.
Meet Darby.
If anyone rivals Nicole for the title of rock star, it's Darby. Darby's been so successful that training her to make Team USA to compete in the AKC World Championships isn't a pipe dream. For the last four years, Nicole's worked with a private coach toward those ends and will participate in world tryouts in Pennsylvania in December.
Darby's already been a finalist at Westminster. She's got 64 double Q's and counting.
#BostonStrong trains every day. Rather than run long courses, Nicole focuses on a sequence of obstacles, sometimes three or four, and perfecting those. She keeps practices short, 10-15 minutes a few times a day.  Impulse control, conditioning and core strengthening are all part of the regimen.
#BostonStrong eats well. "Usually whatever protein we're having, they have," Nicole says.
Seared steak and salmon are typical menu items. Filet mignon sometimes, too. They get blueberries for their antioxidants. Chick-fil-A is a special treat.
Perspective is a must.  Nicole, an architect by day,  admits to being something of a  thrill-seeker in her off time. "Hang gliding, scuba diving, skiing — I love all the stuff that makes my mother cringe," she says.
Agility fills that void now, and as serious a competitor as she is, Nicole hasn't forgotten that agility is a game you play with your dogs. Make it fun for them or it's not fun for you.
"Stay positive," she says. "No matter what happens in the ring, I want my dog to leave thinking at the end of every run, they won the lottery."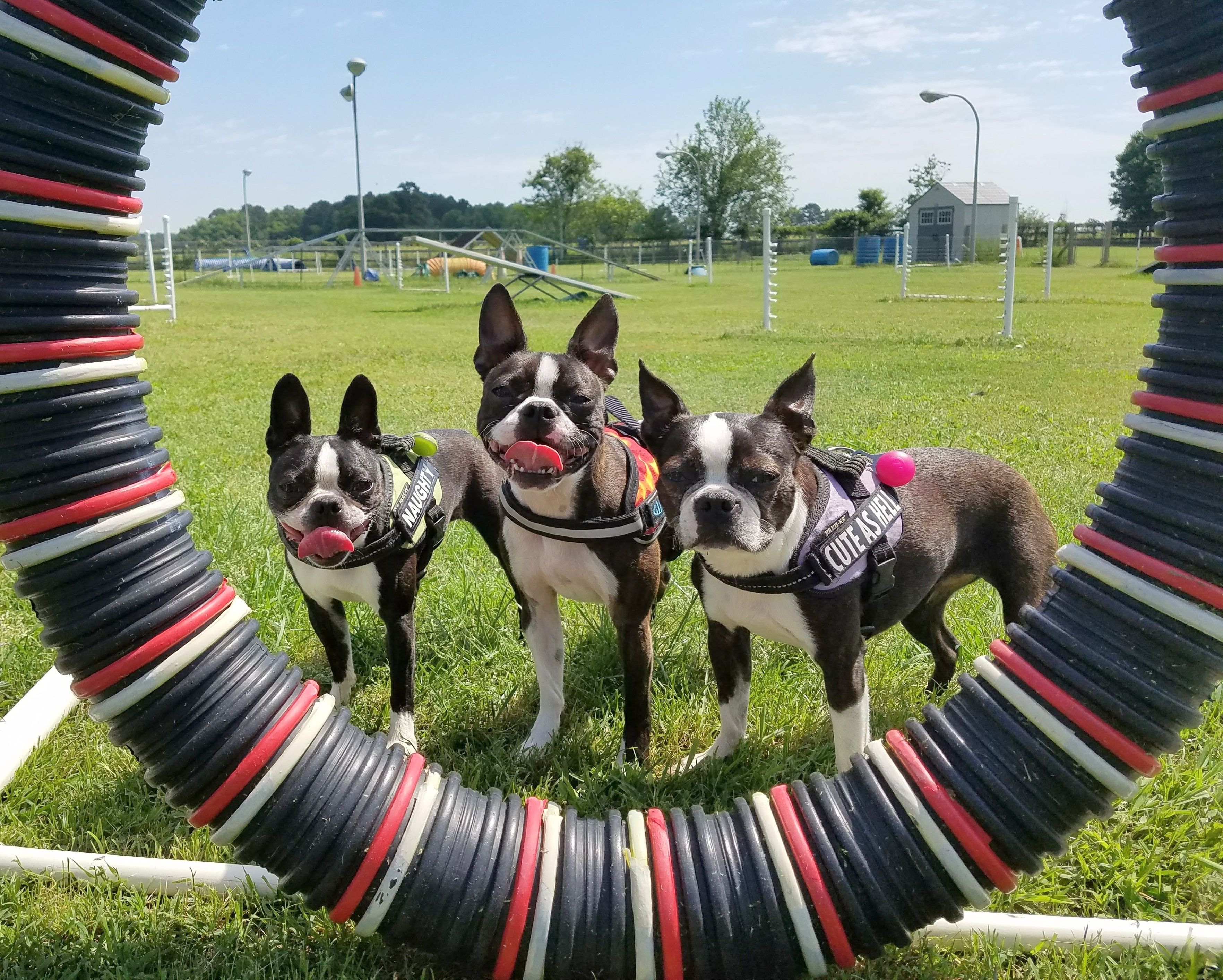 ---
Oct. 3, 2021
Tails UP: Here's your guide to filling out a premium to enter a trial
When you're ready to enter your first NADAC  Trial — NADAC stands for North American Dog Agility Council — start by registering your dog with NADAC. All dogs must have a NADAC registration number before they enter a NADAC-sanctioned trial. This is a one-time process. You will receive your NADAC registration number immediately if you register online.
If you have registered with AKC or any other group, you still need to register with NADAC before competing!
Family Dog Club will host a NADAC Trial from Nov. 5-7 so we will focus on filling out the premium for that trial. Click here for that premium. If you're wondering, "What the heck is a premium?" it is just a fancy term for entry form.
Print out the premium so you can refer back to it.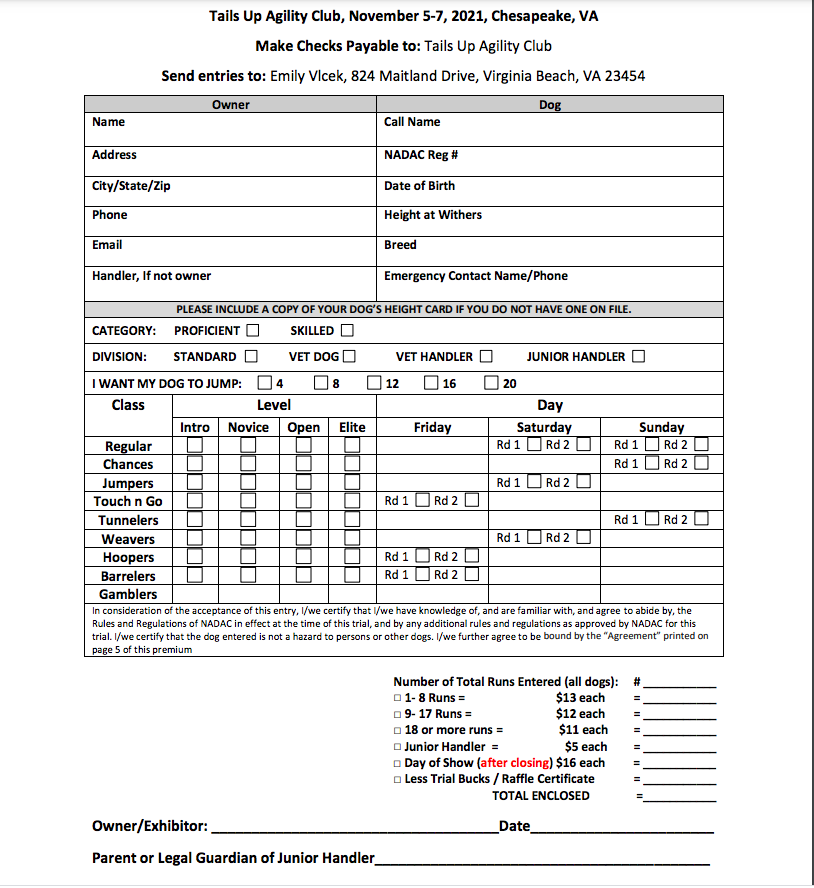 Fill out all your personal information under Owner. Fill out your dog's information under Dog. This is where you will include your dog's NADAC registration number. Your dog's call name is what you call him!
Next you will see information about height and measurement. Height at Withers refers to how tall your dog is from the highest point of their shoulder blade to the floor. You can have your dog measured at the trial.
The next box is Category. You must enter your dog in one of two categories: Proficient or Skilled. Skilled allows your dog to jump one height lower than they measure for. If you want your dog to jump 4 inches, you must choose the Skilled category. Proficient dogs jump the height they are measured to jump. Points are accumulated the same in both categories.
The next box is Division.
For most dogs, check Standard. Check Veteran Dog for dogs ages 7 and older. Veteran Handler is available to any handler age 60 or older or a handler with a certificate of disability. Junior handlers are 17 and under.
The next box is "I Want My Dog to Jump." Check the height you want your dog to jump. The trial secretary may get back to you if it's your first time entering a trial.
The next sections are Class and Level.
The words you see under Class are the various runs offered each day of the trial. To see a description of each class, review Pages 15-22 here.
For Level, If you have no titles, you can enter Intro or Novice. Intro is great for first-timers as they're smooth, easy courses. Novice is a little harder and Open is harder than Novice. Elite courses are the most difficult. If it's your first trial, you must start with Intro or Novice.
In all classes, Excellent (EE) runs first followed by Open (OO) followed by Novice (NN) followed by Intro (II).
Under the days Friday, Saturday and Sunday, you will see Rd1 and Rd2 next to each class and level. Rd1 means Round 1 and Rd2 means Round 2.
In this trial, they are offering double runs, which means your dog can run the same course twice, Round 1 and/or Round 2. It's your option to run one or both rounds. The advantage of running both rounds is if your dog messes up the first one, you have another chance for a Q (qualifying run). If you run twice, you can earn two Q's.
Decide what classes you want to enter Friday, Saturday and Sunday, and check the corresponding boxes.
Add up your number of total runs. The more runs you sign up for, the cheaper it is. This NADAC club allows day-of-show entries, so if you choose to add an extra class when you get to the trial, you can do so. Some clubs don't offer this.
Be sure to sign and date your entry form. Get your entries in by Nov. 1 to get the best price. Day-of-show entries are $16 for each run.
Do not forget to sign your premium!
Questions? First, reread the premium. Most answers can be found on the premium. Feel free to ask your instructors or email the trial secretary if you still need assistance. Make checks payable to Tails Up Agility Club. Entries must be mailed to Emily Vlcek, 824 Maitland Drive, Virginia Beach, Virginia, 23454.
---
Aug. 23, 2021
Tails UP: 5 hidden benefits of learning agility with your dog
We like to say at Family Dog Club that agility is the best fun your dog (and you) will ever have. In fact, this companion sport is full of benefits, including 5 "hidden" ones you might not have thought of before.
Here's our list.
Nice to meet you: Agility is great for socializing you and your dog. We keep classes small at Family Dog Club, and dogs are on leash at the Basic level. Agility class is the perfect place to work on socialization skills, whether you have a shy dog, a social butterfly or a wild child. The class environment helps your dog get accustomed to being around other dogs, and in time, your dog will be less distracted and more attentive to you. After all, what could possibly be more fun for your dog than to have your full attention? Bonus benefit: We're a friendly bunch in class, where you'll meet new friends and dog lovers alike that share your passion!
The cardio effect: It's no secret that agility is good exercise for your dog. It not only keeps your dog physically fit, it stimulates your dog's mind. Agility is also great exercise for you! You're on your feet and moving in agility class rather than lounging on the couch. You can get in lots of exercise by walking, jogging and running with your dog. Most likely, you won't even realize how many steps are adding up while you and your best friend are having fun.
Say what? You'll discover a new language during agility class where you'll become familiar with terminology like front cross, back cross, blind cross, threadle, serpentine, obstacle discrimination, Q  (that's short for qualifying score). But what you eventually learn is that your dog best responds to body language. Oddly enough, they know body language from the time they are 8 weeks old. Agility is our chance to catch up to what our dog already knows. When agility championships come on TV, you'll have a new perspective to identify what the elite handlers do so well. And who doesn't love telling friends, "My dog can do that!"
Just chilling: Once you start agility training and you get through a couple of classes, we're pretty sure you'll be hooked. When that happens, let the fun begin! It won't be long before you are ready to start thinking, 'Maybe I'd like to enter my first trial.' Trials are usually held on weekends (Family Dog Club hosts several every year), and trials are a blast. Some bring tents, but most set up umbrellas and work right out of their vehicles. If you're lucky enough to have an RV, that makes weekend trialing even more fun. It's an awful lot like tailgating! You'll meet new people, learn new moves, and best of all, who doesn't love chilling with their dog?
Great job! Agility builds confidence — yours and your dog's. Little by little, you and your dog grow to become an amazing team, in sync with each other. It's baby steps — a dog that is hesitant to set foot through a tunnel will do it with ease after some practice. There is a lot to learn at first. Even on your first night of class, you'll be negotiating several obstacles in a row. It's only natural to think, "I'll never get this." Guess what? You will get it. You can work at your own pace, and soon both of you will be running courses together. Before you know it, you'll have your first Q! The journey in between is full of mini milestones that build confidence every step of the way.
See you in class! (Our next session starts Sept. 6, 7, 8.)
Have a Tails UP day!
---
June 2, 2021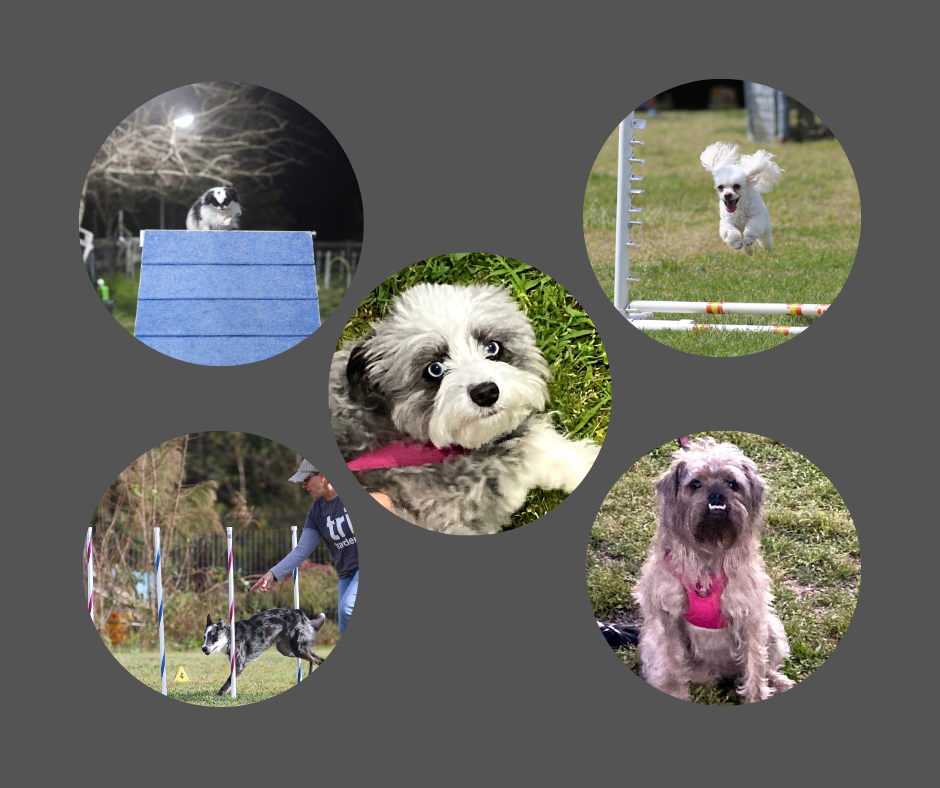 Tails UP: Why your dog is the right dog for agility
No border collie? No problem! Whether you have a lab or Chihuahua, a purebred or a mix, a rescue or an AKC champion, agility is a fun way for you and your dog to spend time together.
If your dog is motivated by treats, chances are they'll thrive at agility. Rita teaches classes using positive reinforcement to encourage your dog to tackle new agility skills. Most beginner dogs enjoy the obstacles and love spending extra time with you. An energetic dog that's been cooped up all day while you're at work will relish the chance to navigate a sequence of jumps, tunnels, dog walks and A-frames.
Agility also helps with socialization, which can be ideal for a rescue dog that needs to build confidence. Not only will your dog be exposed to other dogs, but sights, sounds, noises, people — all of that helps your dog become more comfortable outside of their home and yard. You'll have to be patient with a skittish dog, but beginner classes are a great way to help your dog come out of its shell.
Agility isn't just for big guys, either. Smaller dogs do just as well at agility, so don't leave your pint-sized pooch on the sidelines if they enjoy spending time with you outdoors. Jumps are lowered to 4 inches for the smallest dogs. While the A-frame might look like a mountain to you, smaller breeds generally have no trouble climbing something so tall.
All ages can train; there are things to learn at every age, young or old. Though you want to wait until your puppy has had its vaccines before exposing them to a training class full of dogs. Too old? Never! As long as your dog is physically able, they can train.
Agility isn't so much about breed of dog, it's about the connection that deepens when you and your dog work the obstacles together. Agility training creates a bond unlike any other. Your dog needs you to succeed and you, of course, need your dog. When you're training together, you learn what it takes to become a team so when the two of you are running a course, you work as one unit.
So, if you're debating whether your dog is the "right" dog for agility, know this. The right dog is your dog!
We'll see you in class! Our next sessions begin June 7-8-9.
---
May 14, 2021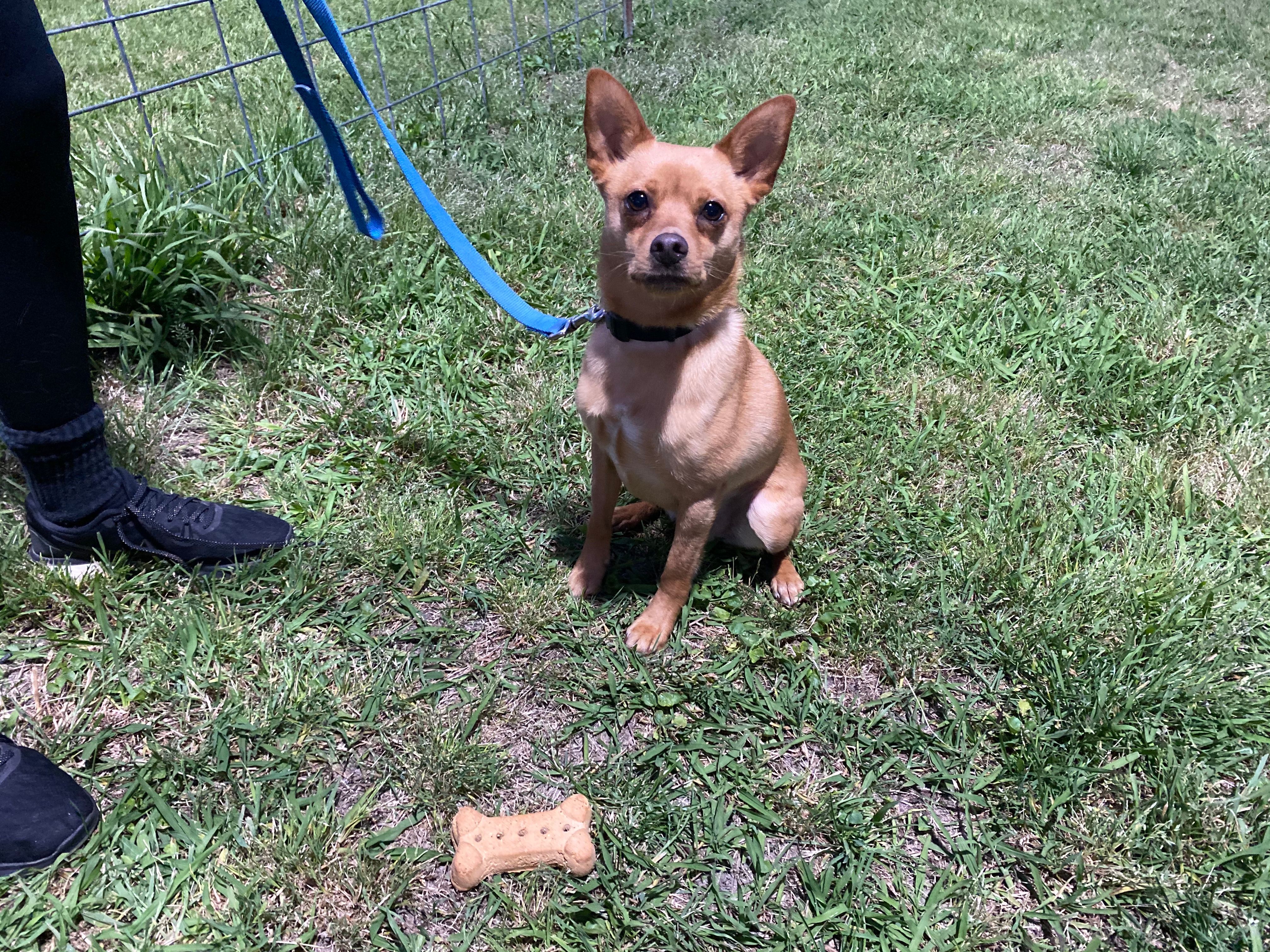 Tails UP: Why agility is a real treat for your dog
Let's talk dog treats and agility. As much as your dog likes seeing you happy, you'll need more than high praise to for agility training. Always have itty-bitty treats to give as rewards to keep your dog focused on you.
We've got some ideas about treats to share, starting with …
Mix it up. If you'd like to see your dog get more enthusiastic for agility, consider changing treats to something really special and something you only reserve for agility class, during training or at a trial.
Some fun ideas — string cheese, hot dogs, chicken, steak, liverwurst — Rita's dogs go bonkers over dried beef lung. You want a treat that can be quickly consumed — not one that your dog needs to crunch that leaves crumbs.
Be wary of portion size. You'll reward a lot in agility. You don't want to overfeed your dog after one good run. Consider your dog's size when giving treats. Zukes has tiny treats that are low-cal; if you're training at home, you might want to trade off between treating with kibble and a real treat, especially if you're worried about your dog's weight.  Don't forget to be excited and given plenty of praise, too!
No spills, please! When you bring treats to class, do not use one of those open containers that clip on your belt. They don't close well. Treats tend to fall out as you run. Use a pouch that zips or closes tightly and opens easily. You'll be rewarding frequently.
When your dog is struggling with an obstacle or a command, use a treat as positive reinforcement and reward for even the smallest steps toward progress. There's no rule when you're training that says you only reward at the end of a sequence. A dog's confidence will grow if you reward often. If you make a mistake with your body language and want to go back to correct it, use treats to help your dog stay motivated.
Of course, most club say no treats of any kind are allowed in the ring during competition. It's always best to motivate your dogs in the minutes leading up to entering the ring with a treat or two. Make sure you have plenty of bonus treats ready to give as soon as the dog leaves the ring. And don't forget to make sure your dog knows how happy you are with lots of praise and petting.
Remember, even if you'd like to believe your dog is working for the fun of it and to please you, no one likes to work for free! Treats are gold — make sure yours are irresistible.
---
April 14, 2021
Tails UP: A newbie's guide to trialing for the first time
To trial or not to trial? Are you asking yourself the question?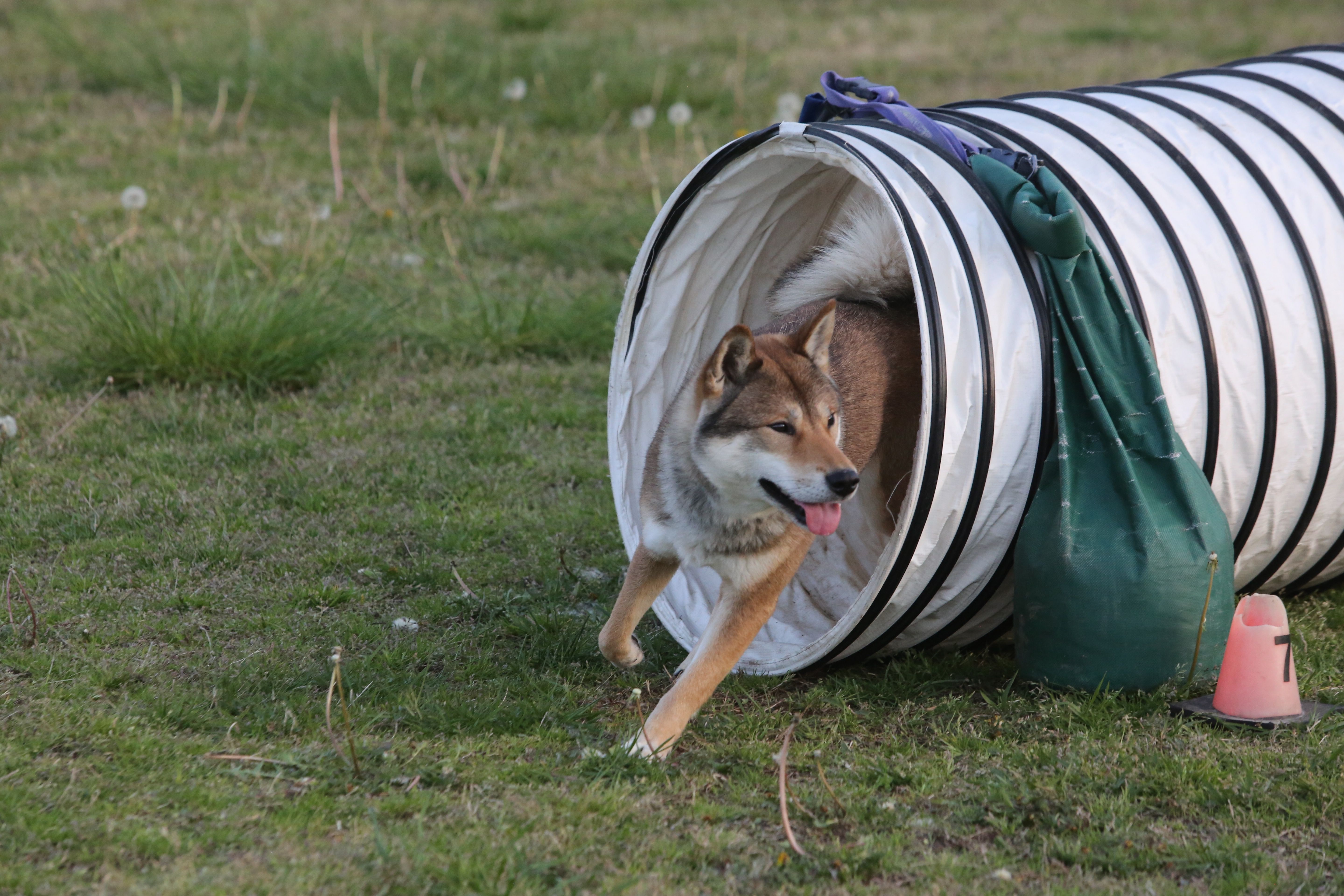 Maybe the best way to find out if you're ready to trial is to attend one in person. Join us at Family Dog Club April 16-18 for the NADAC North East Regionals hosted by the Tails UP Agility Club. Competition begins at 8 a.m., all three days. Don't worry about being there from the start if you're spectating. Trials last several hours.
If you've never been to a trial, here's a primer of what to expect.
You will see four levels of competition: elite, open, novice and intro. Elite generally has the experienced competitors, and of course, has the most challenging courses, followed by open and novice, saving intro for the brand new dog and handler team.
Competition is double run, meaning each dog can run the same event twice. All the elites will run first and then repeat the round followed by open, novice and intro.
If the team completes the run perfectly and within the time allotted, they receive a Q-10 or a qualifying score worth 10 points. Titles are earned by an accumulation of three qualifying scores.
Dogs can be disqualified for a number of reasons, including knocking down a jump bar, going over time, taking an obstacle out of sequence and of course, relieving themselves in the ring.
Here are the classes that NADAC offers in a trial.
In the Hoopers class, dogs run through a series of numbered ground obstacles that require owner and handler to create an efficient path together.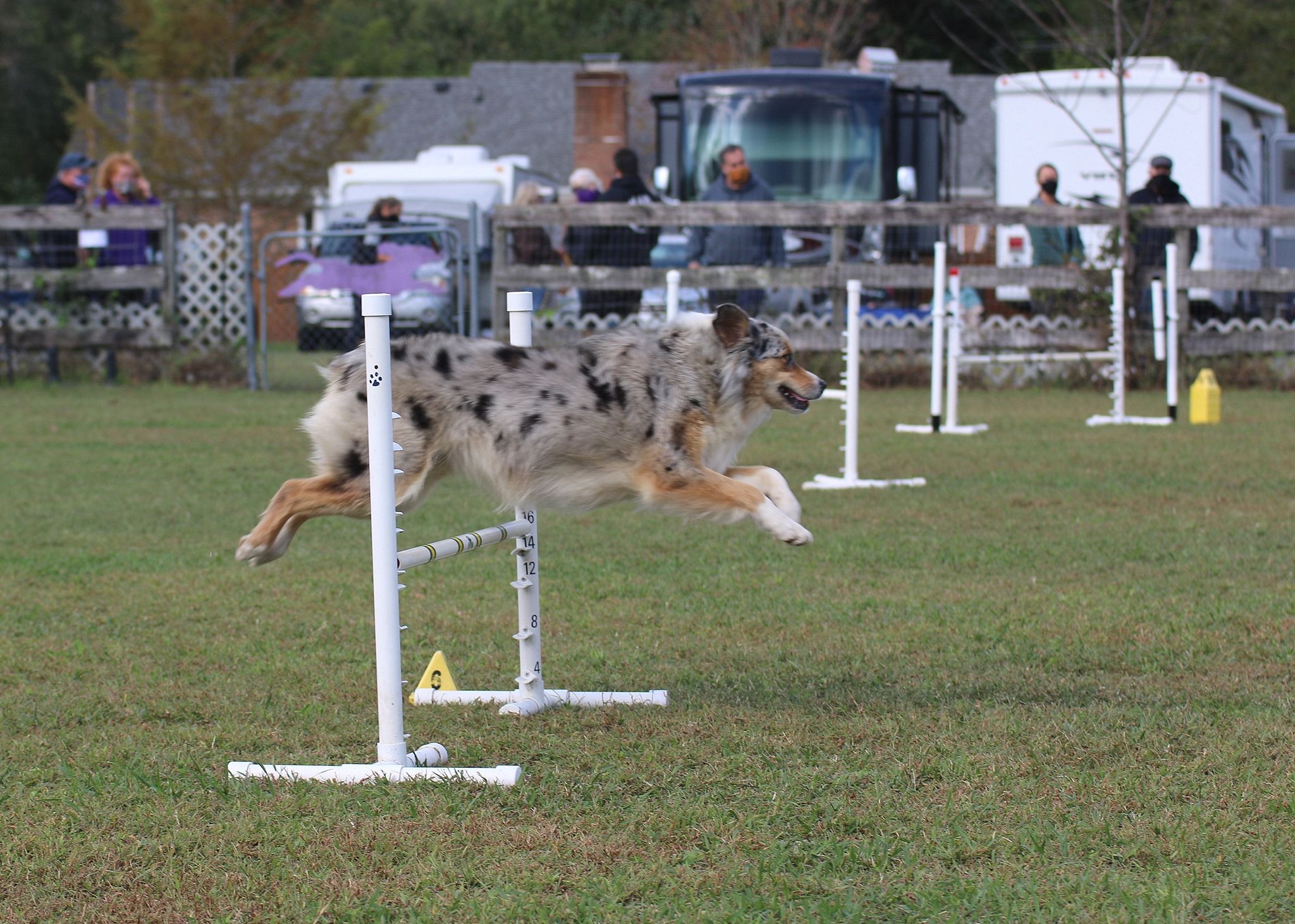 In the Regular class, all the obstacles are used — jumps, weaves, tunnels, barrels and contact obstacles — in a numbered sequence.
In the Barrelers class, dogs must navigate around barrels. The course also includes hoops and tunnels.
In the Gamblers class, all levels run the same course and each obstacle is given a different point point value. You can make up your own course, but the "gamble," or a series of mandatory obstacles, must be part of that course.
In the Chances class, dog and handlers are tested for their distance and discrimination skills. Handlers direct their dogs to perform a group of obstacles that must be performed away from them.
In the Weavers class, the numbered courses are comprised of tunnels, hoops and weave poles.
In the Tunnelers class, everyone runs the numbered same course. It's fun, fast-paced and dogs love it because it's all tunnels.
The Jumpers class includes all jumps and maybe an occasional tunnel. You will see the judges change the jump heights from 4 to 8 to 12 to16 up to 20 inches.
The Touch N Go class is another numbered course of contact obstacles, tunnels and hoops. The goal is to perform the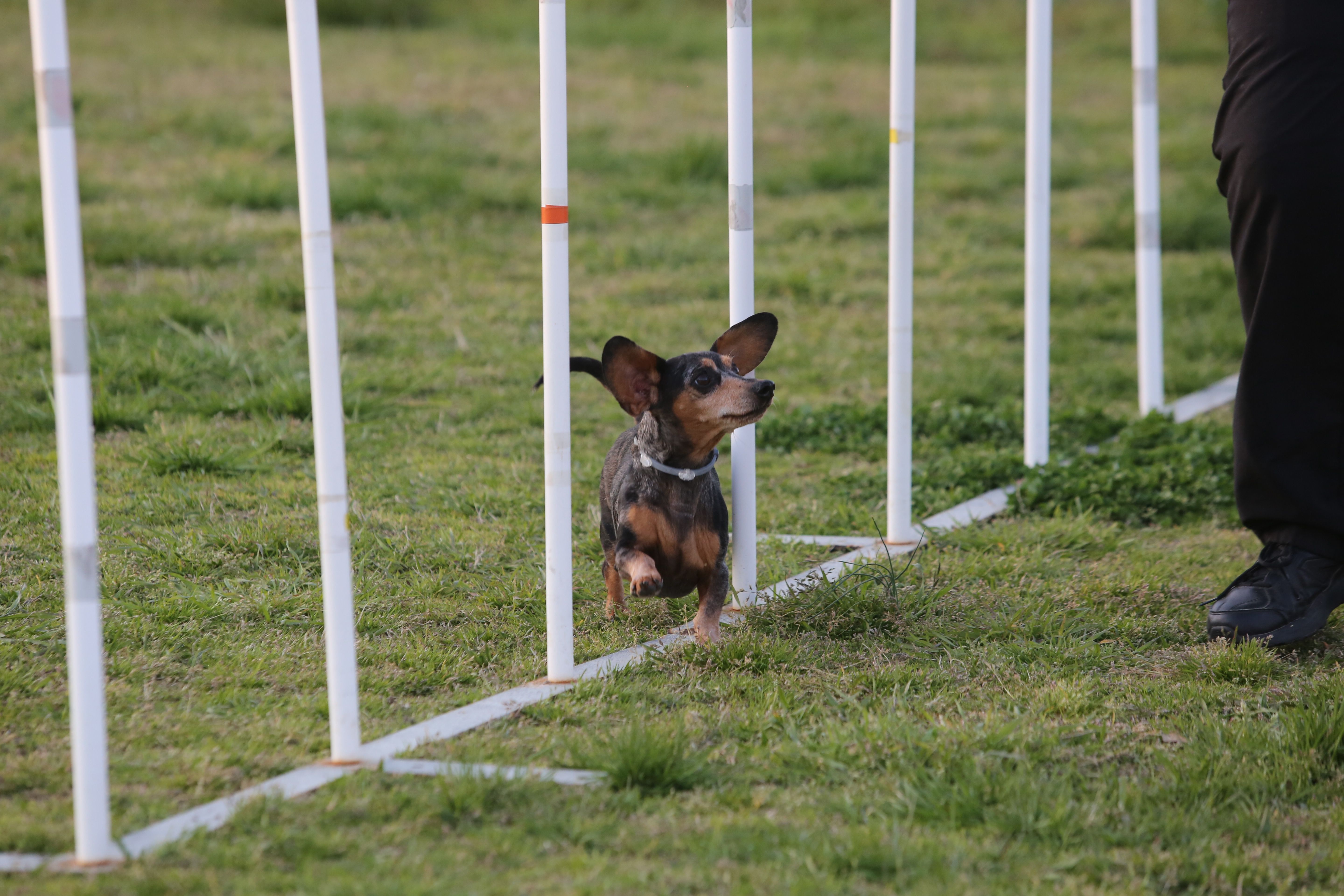 contacts correctly – the dog's feet, for example, must touch the bottom of the A-frame and dog walk, which can challenge a Border collie going at full speed.
Walking on the course: You will see handlers walking the courses before they run their dogs. This is valuable time to plan for the crosses you will do and to consider trouble spots for the dog. As Rita will tell you, "The better you walk it, the better you run it."
Dogs enter the ring on leash and must remain on leash until the judge says, "Good luck." After completing the course, the leash must be put back on the dog before handler and dog leave the ring.
Handlers can't touch their dogs in the ring. But if a dog is struggling, it's not unusual for the handler to use the time in the ring as training to complete the course in a positive manner. You spend so little time in an actual ring during an agility trial that it's best to use all the time to your advantage even if you do not receive a qualifying score.
What to bring: Experienced handlers pack plenty of gear for a trial weekend. Dog treats are a must and so is a crate. Ideally, the dog rests in between runs. On a warm day, it's not unusual to see a fan attached to a crate or the handler will crate in the car with the AC running. Often blankets cover the crate to keep the dog from becoming overstimulated. Many folks put up awnings or small tents with chairs inside. The serious trial handler might even have an RV.
Good to know: If you hear someone mentioning the premium, all that is is a fancy word for the entry form. Your dog must be registered with NADAC to run a NADAC trial. A one-year NADAC membership is $15; junior handlers are free!
If you want to see a trial up close, join us! Pack a chair, water, mask, snacks if you plan to hang around for a while and sunscreen. See what your dog can learn to do!
Don't forget our next round of agility classes begins April 26-27. If you haven't already, email Rita to hold your spot in class at familydogclub@hotmail.com.
Below is the trial schedule. See you for a Tails UP weekend!
Friday's events are Hoopers, Regular, Barrelers and Gamblers. Saturday's runs are Chances, Weavers, Regular (a course different from Friday's) and Tunnelers. Sunday's events are Regular (a different course than Friday and Saturday), Jumpers and Touch N Go. If you're spectating, it's best not to bring your dogs as the rings will not be available to practice. Come, get excited and see what trialing is all about!
---
April 3, 2021
Tails UP: With your Basic class behind you, it's time to sign up for Intermediate 1
Congrats to your dog for mastering all the agility obstacles in our Basic class. It's fun to see your dog climb the A-frame, dash through a tunnel and leap over jumps. But there's so much more to learn. Your agility journey is just beginning.
And this second leg of the journey is all about you. Your dog takes his cues from your body movement – what your shoulder does, where your feet point, how high or low your arm is. You will learn that your dog relies on you to figure out how to navigate a course.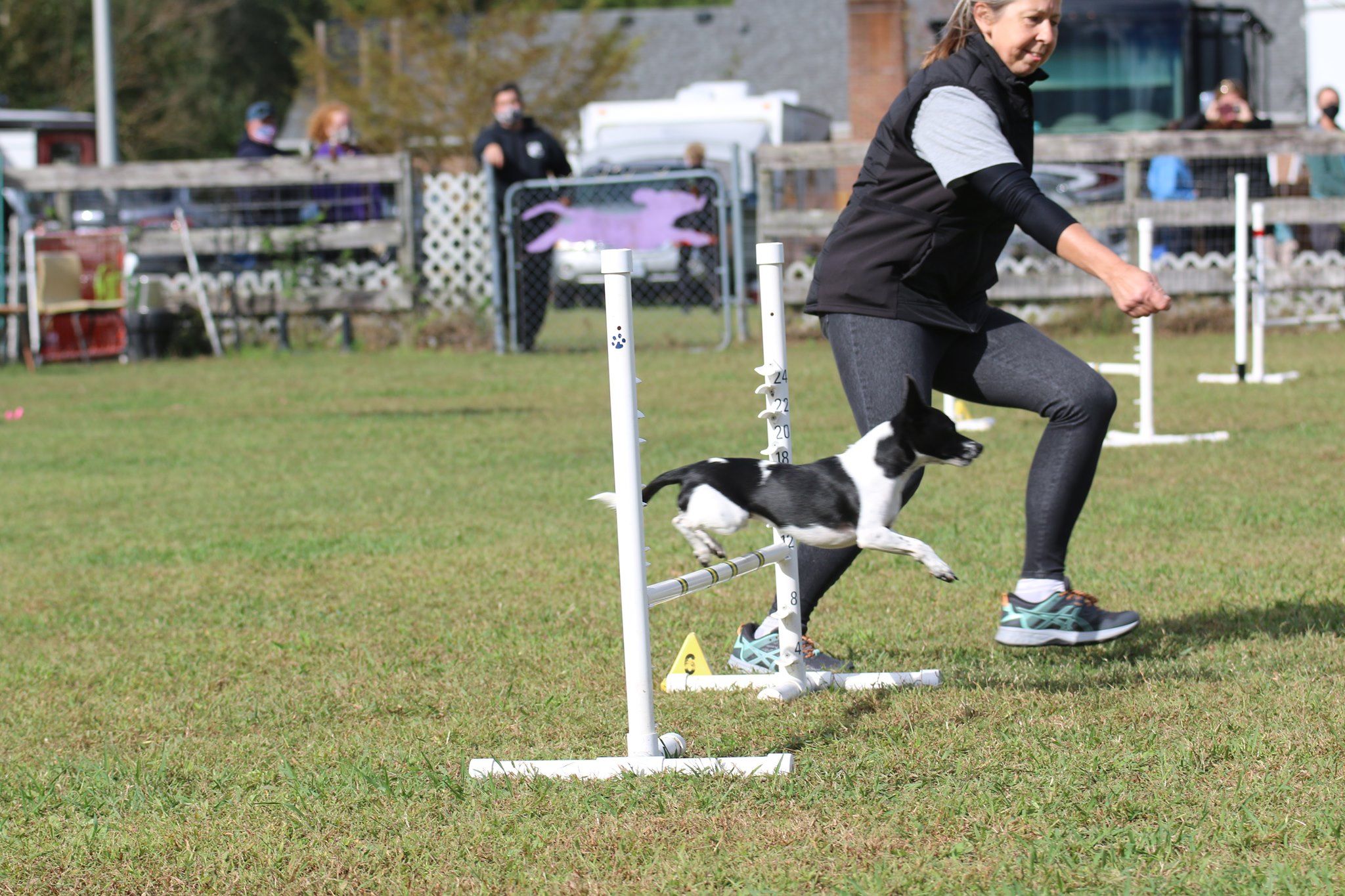 All that and more are taught in Intermediate 1, our Monday evening class that meets at 5:30 p.m. Our next session begins April 26, 2021 and we have spots available!
By the end of the class, you'll have a whole new vocabulary. You'll learn that a front cross is when you turn into your dog and change sides and a rear cross is when you switch sides after your dog has taken an obstacle. You'll learn how to turn your back in front of your dog very quickly or what we call a blind cross.
You'll learn commands such as "go," "out" and "here."
You'll discover what's called "switch" or teaching your dog to move in the opposite direction of you. You'll learn about threadles (a dog takes a sequence of obstacles in the same direction). You'll practice start lines and distance work.
You'll build confidence on the weave polls and understand obstacle discrimination (if a tunnel and A-frame are close to each other, you must communicate to your dog which one to choose).
Also, you'll get your first taste of what it's like to walk a course.
By the end of Intermediate 1, you might even be comfortable enough to work off-leash with your dog. If not, no worries. That takes time.
We have all different levels in Intermediate 1 because you learn so much, it's not unusual to repeat the class a few times. It's a lot of thinking while doing on your part, but it also strengthens your bond with your dog. As always, Rita makes it fun for both of you along the way.
Intermediate 1 is really the start of building your agility toolbox. Even if you never plan to compete (and yes, everybody says that), it's still fun to partner with your dog and see what you can accomplish together. As nice as a walk is for your dog, agility is brain food that stimulates your dog mentally. An agility course exercises a dog mentally, increases endurance and even strengthens muscles and joints.
We can promise this. It will be fun for you and even more fun for your dog. You built a magical connection with your dog after you both aced Basic class. Get ready to take that to the next level in Intermediate 1.
See you in class!
Intermediate 1 meets on Mondays from 5:30 – 6:30 p.m. The next session begins April 26. Email Rita at familydogclub@hotmail.com to reserve your spot.
---

Rita with Emma, Andrew and Anna along with pups Rosie and Diego.
March 19, 2021
Tails UP: Agility can be fun for the whole family
A day at a K-9 Karnival turned into a lifetime of fun for the Vlcek family.
Years ago, Emily Vlcek toted her daughter, Emma, to a canine carnival in Virginia Beach where Family Dog Club owner Rita Phoenix had set up a simple agility course for kids to run with their dogs. Emma was just 4 years old at the time, but she did the practice course with her Shetland Sheepdog, Katie. Then she did it again.
And again. And again.
Rita finally suggested, "Why don't you go get your dog some water?"
"Emma didn't want to leave!" Emily recalls. (The picture below is Emma running Katie that very first time.)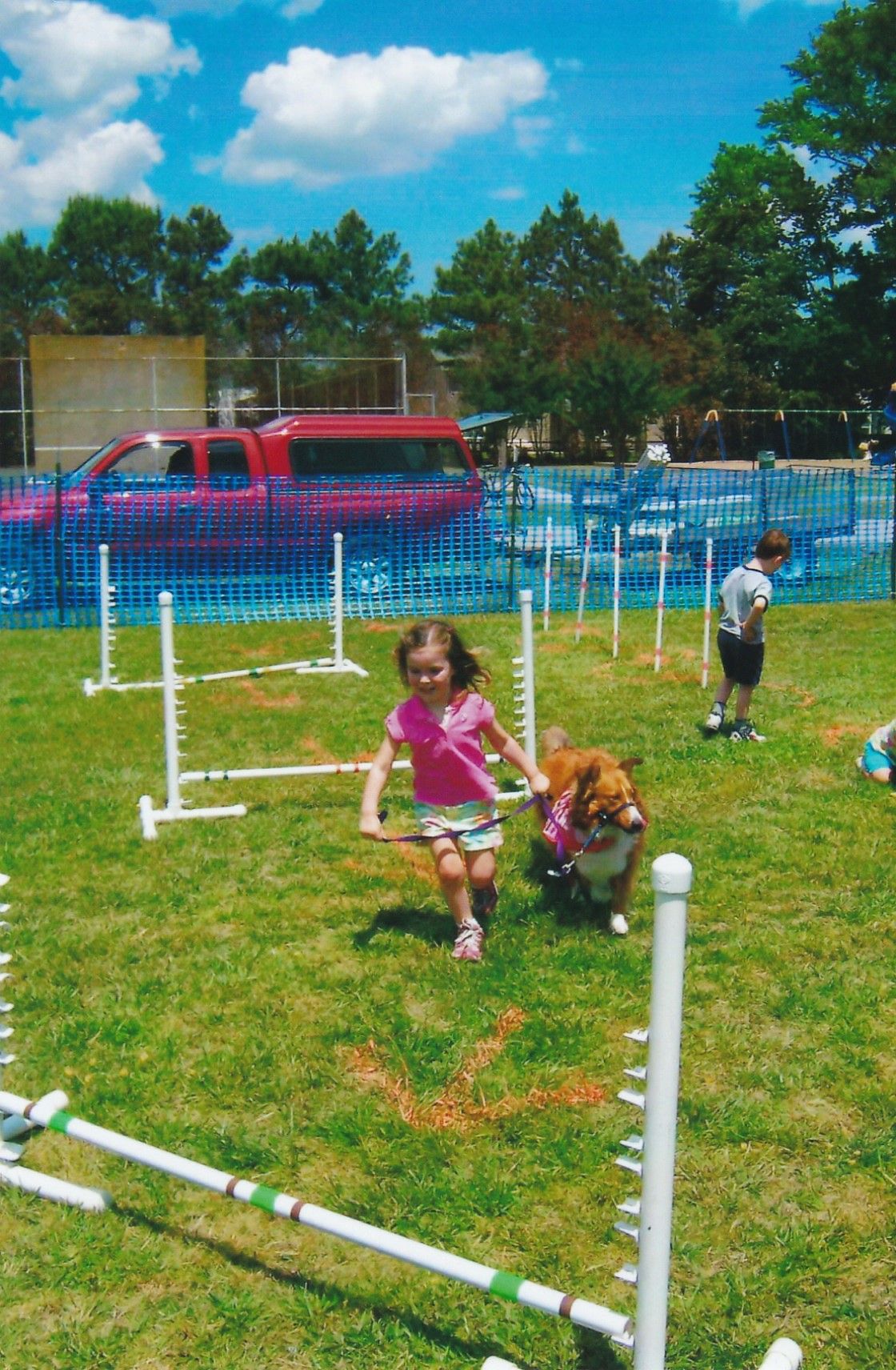 Team Vlcek was born. Emma and her mom signed up for a  Basic agility class with Katie at Family Dog Club.
"We were hooked," Emily says. "The rest is history."
Agility isn't just a fun sport for dogs and their owners; it can be a family sport. Emily's other two children, Andrew and Anna, also learned handling at Family Dog Club, with the whole family taking turns working their dog Diego. That included Emily's husband, Joe Vlcek, who though  he prefers to be a sideline supporter.
Emma, today a freshman at Old Dominion University, even admits that 11-year-old Anna is better than she was at the same age. Anna's been doing it "since she could walk," Emily says, and benefitted from her mom and older sister's experience.
Plus, she's a sponge for all there is to learn from start lines to crosses to how the slightest movement can impact your dog's path. Anna regularly works with another family dog, Rosie.
Emily has graduated to the point of assisting with agility classes at the intermediate level at Family Dog Club.
"I'm constantly learning," she says.
Agility helped Emma's confidence grow. She didn't feel nerves even early on in the ring.
"I played soccer for a while and that's a very team sport, very physical," Emma says. "With agility, it's just you and your dog against the course. Everyone cheers for each other and coaches each other. Even if you mess up, you can still finish strong."
Agility also helped develop Emma's critical thinking skills as she moved up the ranks from novice to open to elite competition. Every level calls for snap decisions — which cross to do when and what to do if your dog's attention lapses and a whole lot of etcs. No two runs are the same.
Emma and her dog, Finn, went on to earn the coveted NATCH (NADAC Agility Trial Champion title), awarded when the dog earns 130 Points in Jumpers 130 Points in Chances and 230 Points in Regular at the elite level. Emma and Finn advanced to NADAC Champs, and this year Finn and Emma earned All Around NATCH and Versatility NATCH, which includes more classes than just the Jumpers, Chances and Regular required for a NATCH.
Emily never planned to compete, but she started absorbing everything from classes at Family Dog Club and added agility seminars, too. When the family added another dog, Obi, he bonded with her, and now she's hooked.
"It's quite addictive," says Emily, also trial secretary for the Tails Up Agility Club. "You're always learning. You've never learned it all. You're always working your brain. You're always working your dog's brain."
Now Emily is introducing her newest dog, Bree, to everything agility.
Andrew still works with a semi-retired Diego, but is always supportive of his sisters and mom.
On weekends, it's not unusual for the whole Vlcek crew to pack up the dogs and head for a trial. To offset costs, the kids started selling tugs, t-shirts, homemade dog treats, seat cushions and blankets at trials. They make substantial donations for Toys for Tots, too, with proceeds that also go toward fees for the next trial. And it's a given that everybody volunteers for a job while trialing.
"Agility brought us together," Emily says. "We've had times when all five of us have gone to trails with four dogs. It something we all have in common that we can do together as a family."
What started as a few minutes at a carnival turned into a hobby for life that you never outgrow.
---
March 6, 2021
Tails UP: Good-to-know before your first agility class 
If you've signed up for a Basic Agility class at Family Dog Club, congratulations! We can't wait to see you! 
If you're wondering what to expect, here are a few things that are helpful to know. 
If you're showing any signs of COVID-19, please do not plan on attending class. We will make sure to reschedule you for our next session. 
Arrive a few minutes early if possible for the first class. Make sure you bring proof of both a current Rabies and Parvo/Distemper vaccine for your dog. We have a short form for you to fill out. On that note, please bring a mask or shield to wear during class. 
Your dog should be leashed (no retractable leashes or shock collars). Leashes should be at least 6-10 feet long. Chokes and prongs are allowed provided you know how to use them properly. Rita will be happy to help you with this if needed.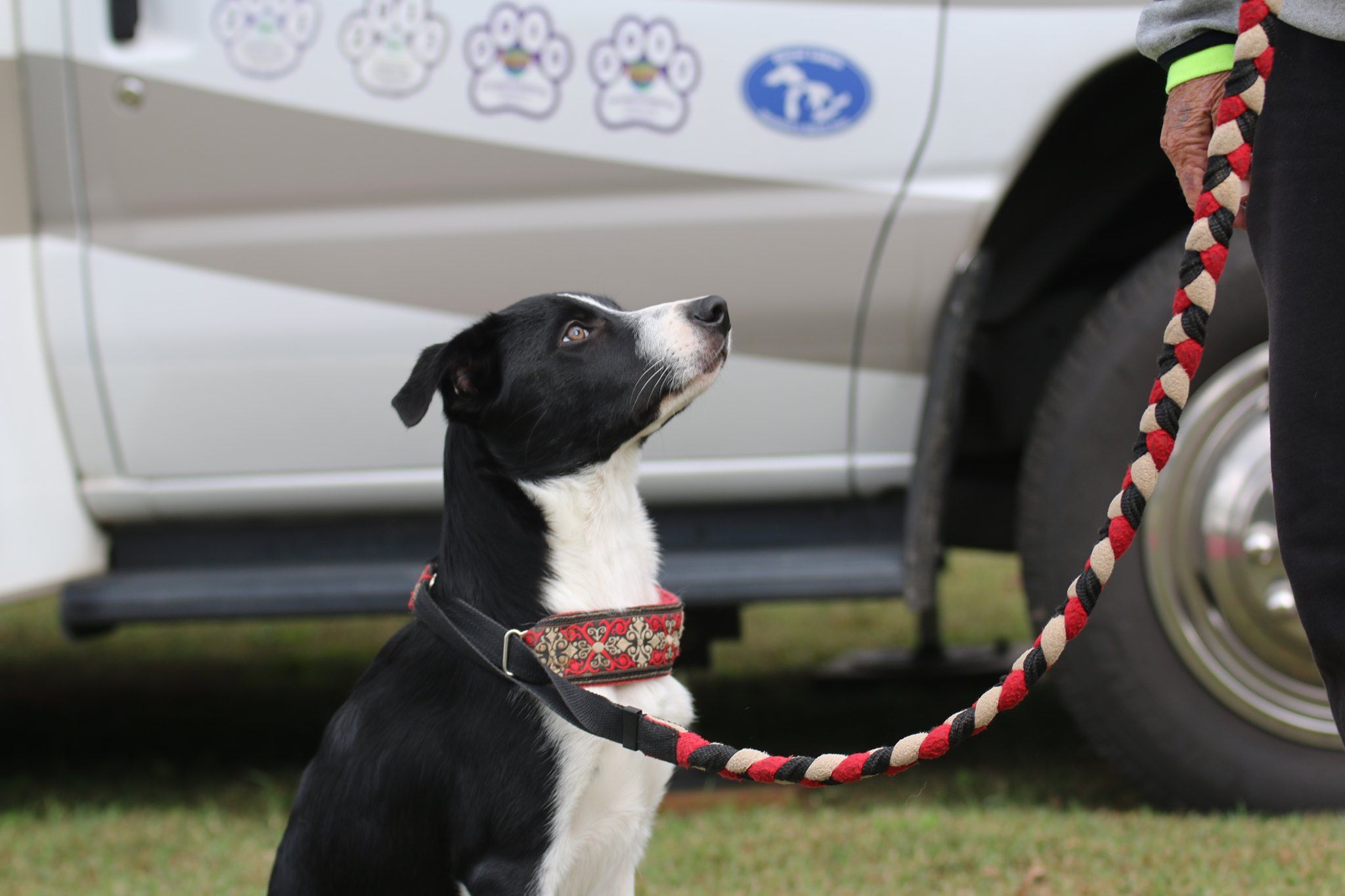 Harnesses are allowed, but please check to be sure it is not too tight around the dog's legs. If too tight, it can cause chafing while dogs are running and jumping. No-pull harnesses and head halters are not good choices for the agility ring as you could cause damage to your dog's neck while running and jumping. A flat buckled collar is recommended. 
Please try to get your pup to potty before you get into the agility rings. Clean up after your dog where they pottied. Place waste in the trashcan located beside the Porta Potty. If your dog potties inside of the ring, please sprinkle the area using one of the green watering can that are filled with bleach water located around the rings usually, near the fences. This sanitizes the spot, as we try to keep the agility rings free of scents to help distract the next dog from remarking. Do not let your dog drink from the cans! It is filled with BLEACH WATER. 
Bring a water dish and water for your dog as our hose is turned off during the winter months. 
Bring your own treats (BYOT), ideally in a sealed pouch that you can carry in your pocket or clip to yourself. The treats should not be able to  fall out as you run around the ring. Bring itty bitty treats — you're going to be rewarding your dog a lot. You want your treats to be able to be eaten quickly rather than ones that require your dog to crunch for several minutes. If you regularly give your dog treats (and who doesn't?), consider having some special ones just for the agility ring. 
The three agility rings are full of tempting obstacles — dog walks, teeters and tunnels. Rest assured, we will learn every one of them in the 5-week session. For safety's sake, please wait until Rita shows you and your dog the correct way to use an obstacle rather than trying it on your own. 
Dogs will want to be social in the ring. Make sure you check with the owner first before your dog goes nose-to-nose with another job. 
Wear comfortable clothes and save your Sunday best shoes for another occasion. Wear sneakers that you don't mind getting a little muddy at times. Since class is at night, it can get chilly and damp, so prepare for that. Wearing layers might be easier than wearing a bulky jacket since you will be moving a lot in the ring. 
Speaking of weather, always assume we're having class. If it's raining at your house, it's not necessarily raining at Family Dog Club. Feel free to check with Rita first if you have any question. It's best to call her at (757) 718-8800 rather than email or text. 
Above all else, remember to come out and have fun. You will learn at your own pace. You might see another handler picking up the skills faster than you. Try not to compare as that might be an experienced handler introducing a new job to agility. . Don't stress about any of it. By the end of the first five weeks, you, too, will be a pro. 
We can't wait to see you in class! Get ready for the best fun you will ever have with your dog! 
We hope you are having a Tails UP day!
---
February 20, 2021
Tails UP: We're keeping Family Dog Club COVID safe 
Welcome to Tails UP, the new blog that will keep you updated on everything Family Dog Club. 
We'll be sharing agility, news tips and spotlights on you and your pup. Look for new blog posts in this spot and on the Family Dog Club Facebook page. If you don't already, please follow Family Dog Club on Facebook. 
As tired as we all are of this topic, we'll start with a short but important reminder about COVID-19. At Family Dog Club, we're serious about remaining COVID-safe. That means we have several guidelines in place that we ask you to adhere to until this pandemic is behind us. 
If you are showing any of the symptoms of COVID-19, please stay home. We are happy to reschedule you a later class session. Also, if you have come into contact with anyone showing symptoms of COVID, please do not attend class. 
You must wear a mask or face shield at all times on the property. During agility class, all the instructors will either be wearing a mask or shield, also. 
Our classes are limited to 10 handlers. We have a lot of space at Family Dog Club. Please stay 6 feet apart from others. 
We have sanitizer available, but please bring your spray bottle with some sort of disinfectant (peroxide or alcohol is great, easy to use and inexpensive). We ask that you spray anything that you touch, which includes the entrance gate, agility equipment, chairs, etc. 
Lastly, if you learn you have tested positive for COVID-19 after participating in class, please call and let Rita know. 
Open houses for agility are on hold until the pandemic is behind us. We can't wait for that day, but until then, stay safe and have a Tails UP day!