Open BOARDING & DAYCARE
at
The Family Dog Club 






Please email:  familydogclub@hotmail.com or call Rita Phoenix for more info or to make reservations
(757-718-8800)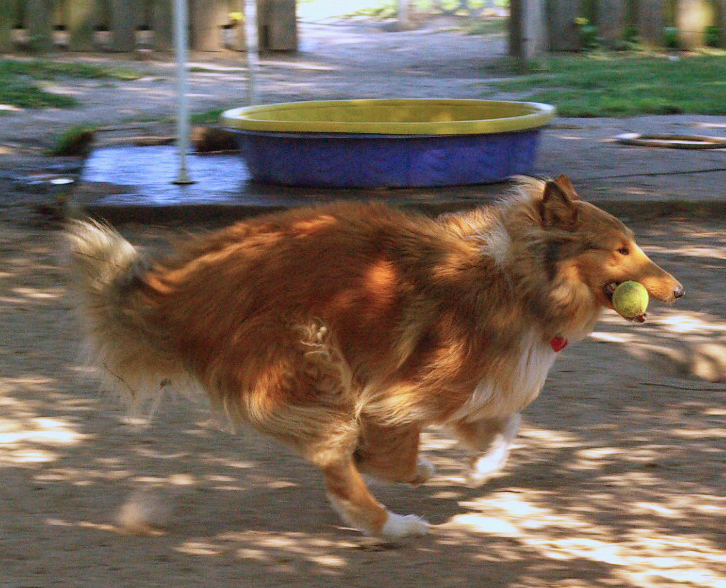 This is no ORDINARY doggie boarding or daycare facility!
Your dogs are NOT going to be locked up all day in cages or 10 foot tiny runs.  Dogs get to run and play on about 3 acres of fenced in, grass filled land and can also go inside and outside as they please. Small dogs and older dogs have their own areas. Most small dogs "come inside" and have about an acre to play on but also have the option of multiple dog beds and couches to hang on.  They too can go inside or out as they wish. 

Puppies (fully vaccinated) are also welcome. We work on dog socialization and potty training skills, and plenty of play time to get good and tired. Coming home to a tired puppy after a long day at work is a wonderful thing...

          We allow your pups to Play All Day...
The Family Dog Club is Owned and operated by Rita Phoenix, Kim, Dannie, and Kaitlin
We all live on-site, allowing for excellent, professional and loving care 24/7 care.

Your K-9 pal MUST BE DOG FRIENDLY because we do NOT leave dogs in cages or runs.
The only times we normally crate your pup is during meals or bedtime 
          (or on the rare occasion, if we have to leave the property).
Breakfast is served between 8:00 - 10:00 am   

Dinner is served between  4 - 6:00 pm    

Bedtime starts around  8:00 -10:00 pm 

They are up and back out to play between 6:30-7:00 am
                     Dogs MUST check in between 6:30am - 10:00am Monday - Friday 
                                                          Saturday & Sunday check [ask Rita for weekend times]                                                                
               Dogs MUST be picked up: Monday & Tuesday by 5:00pm      All other nights by 7:00pm
                                          All dogs must do a Trial Daycare date before their first stay ...                                                                                            check in for the trial date is between 9:00-10:00am
         All dogs [daycare & boarding] must be checked in by 10:00am
unless you have made prior arrangements 

          
First Time Boarding or Day Care
Your dog must do a trial daycare date before his/her first stay..  this gives me a chance to see how they meet and greet new dogs, it gives me a chance to see how they play together... It gives your dog a chance to get to know us, instead of leaving them with a stranger... But most of all it gives the dog a chance to see you leave and come back, so when they do stay they don't have to worry about where you are, they know your coming back for them so they can relax and just have fun...

On some occasions I'll ask that your dog do a second trial day if they were real shy, or timid... the bottom line is for your dog to have a good time while they are here...

For your trial daycare date I like your dog to check in between 9:00 - 10:00am...
That way all the boarding dogs will be up at this time, it'll be easier to get you & your dog in, it gives us a minute or two to give you a tour and a chance to get the paperwork filled out without a bunch of dogs jumping all over you.
Please remember to bring your vet records with you at this time...
 All dogs must be spayed or neutered, chemically altered is not allowed: They must be current on Rabies, Parvo/Distemper & Bordatella... A current vet record should contain this information
Notice on Vaccinations:
Your dog does need the Bordatella (kennel cough) vaccine in order to be boarded or come to day care. However there is a FIVE day wait between when the dog gets the vaccine and the time they can come on the property if the nasal vaccine is used. This vaccine is a live virus and there are times when the Bordatella virus can actually get your dog (and then others) sick. There are strains of Bordatella that are not covered in the vaccine and therefore a vaccinated dog still always has a chance of getting kennel cough
                           If your dog has diarrhea, is coughing, sneezing, or has cold symptom                          PLEASE do not bring them to daycare or boarding.
 


 Advantages of Daycare
Daycare can ensure that your dog develops doggie social skills, gets plenty of exercise and comes home tired.  Your buddy won't be left home alone, lonesome and bored while you're away. When the two of you arrive home, he'll be as ready to relax as you are!  Doggie Daycare can improve your dog's health and vitality.  Interaction with other dogs, coupled with increased physical activity, can keep your dog more healthy and young at heart.

(Best of all, your pup might actually sleep through the night!)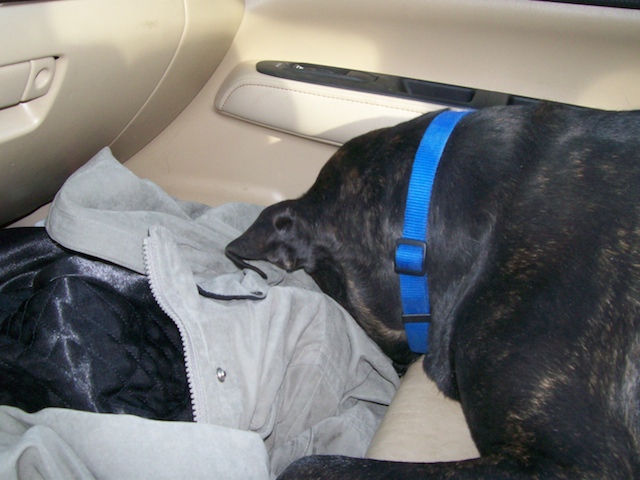 George, asleep on the way home after a hard day's play!

Reservations are required for your best friend to join us,
so call the Family Dog Club at 757-718-8800 today!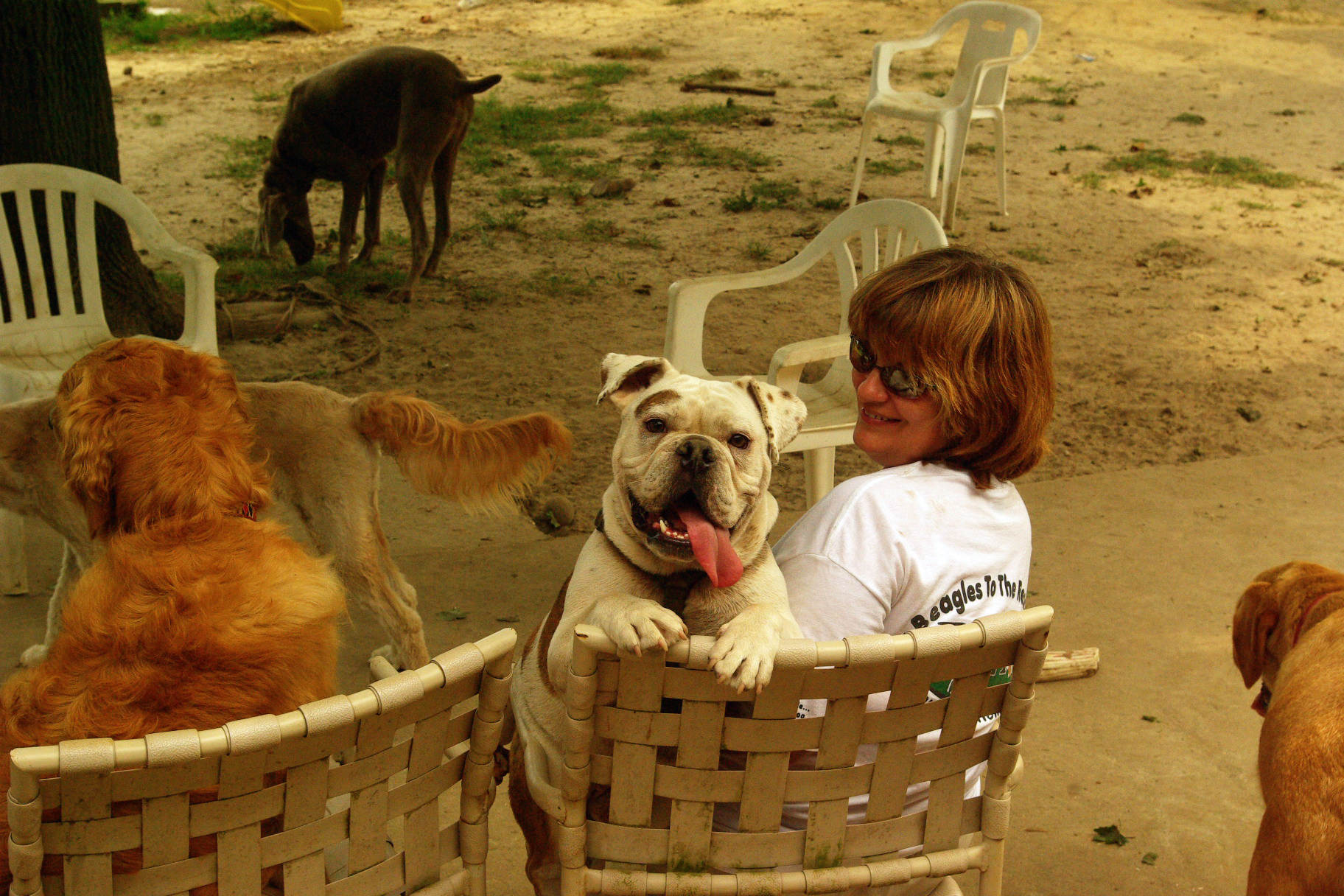 PLEASE NOTE
Puppies must have current vaccinations before joining us. We require:  Rabies, Parvo / Distemper & Bordatella
Please note that your dog has a 5 day wait before coming onto the property after receiving the Bordatella vaccine

Males &  Females must be Spayed or Neutered...  exceptions for some breeds can be made for Puppies under 6 months
Your dog must be friendly with other dogs. Dogs who are aggressive to other dogs or people cannot come play.

We're very sorry but we have had to make a hard decision...
We will no longer be able to accept Pit Bull Terrier dogs or Pit - Mixes...
If your dog has the pit markings & looks please don't ask us if he/she can come... We have found that this breed of dog just doesn't do well in our open boarding setting... Even though your dog may be the sweetest thing ever they still have a strong prey drive, with our play all day setting it becomes too stimulating for this breed. Their strength and power is just too much for the average dogs... We do our best to keep everyone safe...

  Click link for drop off / pick up times and fees for boarding or daycare.

Click link for info on what to bring for boarding or daycare.